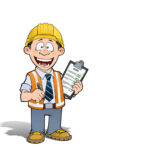 FiveStar Online Forklift Trainer Certification
To become a trainer, your first assignment will be to complete the Operator course, which you will likely want to give to your new operators.
Then once you're familiar with the Operator course and the correct answers, you will need to complete the Trainer course. It's easy! Just watch and learn.
Now you will want to take a nice selfie of yourself and email it to us so we can make a nice looking personalized certificate for you.
You're ready to start training. Assign permissions so your new operators take the full course and have your experienced operators take the short course.
Don't forget to video capture your operators taking their final practical exam – and bingo!
You've certified your first operators. Take a head shot of each operator, send it in to us, and we'll get certifications to you in pdf and by mail!
Work at you own pace as you complete both the trainer course and the Operator course, which you will use to train your operators
Our training exceeds all standards. Especially in the training of new operators, no one provides as much depth as we do
We learn from our mistakes so if you choose a wrong answer, no problem – just retry until you get it right
On your mobile phone? No problem. On a tablet? Sure, why not. On a laptop or desktop? Absolutely. All you need is an internet connection
In 18 years, we've never had an unsatisfied customer, but just in case, we offer a full refund if you're not happy.
Frequently Asked Questions
How long with this take? You should allow 2 hours for the Operator course and 4 hours for the Trainer course, so 6 hours in total for the online portion. Then you are ready to deliver your first training session to one or more trainees.
Why is this course so expensive? FiveStar provides far more resources and support than our competitors, plus our trainers are insured!
Once I complete the online portion, what comes next? You will have clear instructions on how to proceed with your practical exercises for your trainees, where you will video record each operator as he/she completes the task.
How long do the videos need to be? Most operators can complete the 12 pallet stacking drill in about 15 minutes. So will submit the videos to our online portal.
Does anyone fail the Trainer course? You would have to commit a fraud or criminal act to fail. We work with you until you're satisfied and confident you can deliver an effective program.
I want to become a certified forklift trainer and start having fun.
Just looking, keep me posted
This sounds interesting but I'm not quite ready. Sign me up as a free member and keep me posted.